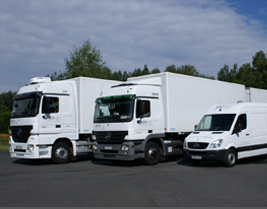 Cooltech Electromechanical Works, located in the Al quoz ind area 1, Dubai. Specialized in Polyurea protective Coating, PU foam Thermal Insulation system, Epoxy, Polyaspartic coating and ,Heat barrier spay application expert in the Middle East.
We invite you to experience with Cooltech E.M- Rhino Lining's service difference in the Polyurea elastomeric protective coating materials and application industry.
Cooltech E.M team provides total quality management system and service. Cooltech E.M team are highly professional and technically qualified also offers year's round 24/7 advanced technical support backed by dedicated staff with over 12 years in the field of fabricating of all kind of Refrigerated Transport Vehicles, Truck bed liner, Cold storages and Tough coat for variety of application industry.
Cooltech E.M is committed to provide high quality and reliable products and services to our customer. Which are reliable and recognized in their respective field, focusing on customers' satisfaction and loyalty, adopting latest technology and highly qualified Staff.
Cooltech E.M products are highly International standards and represents Polyurea (RHINO LININGS, USA), Thermal Insulation materials (BASF/Bayer Germany),Plural Component Polyurethane / Polyurea spray equipment and spare parts (GRACO, USA), Heat barrier application (THERMACOTE,USA),Refrigerated Units and Parts (THERMOKING,UK) Fast floor Polyaspartic coating, Primer, Pigments.
Cooltech E.M serves variety of application for different industries
Hotels, Restaurants, Residential Building, Bridges, Walkways, Bakery, Cargo Containers, Food and Beverages storage floors, Food processing plant and facilities, Receiving area, Dry Process, Lobbies , Locker/Change Rooms, Food Transportation Vehicles, Armored Vehicles, Trucks, Boat, Tanks, Bunker, Mobile accommodation Equipment Wash, Laboratories , Mechanical Equipment Rooms , Packaging, Warehouse , Water Room, Wet Processing, Swimming pool, ponds, Fountains ,Waste water treatment plant, Sewages tank, waste water tanks, Cannel, Oil tanks, Production facilities, Cold storage facility, Loading and Unloading docks, parking area, Amusement Parks, Roofs, Drinking water tanks, Pipes, GRP, Caravans, Shipping container coatings, Ships, Boats, Pontoons, Buoy, Fenders, PU and polystyrene foam blocks.
If you require any further assistance in any specific product and service, please feel free to contact the undersigned. We assure our prompt response and best service for your requirement.